If Jordy Smith finishes ahead of a few guys on the CT, México and Alan Cleland get a shot at the Olympics. Find out how below. Left to right: Luca Messinas (Peru), Alan Cleland Jr. (México), Miguel Tudela (Peru), and Kanoa Igarashi (Japan). Photo: Juani Gayol
Jordy Smith Just Became Alan Cleland's Favorite Surfer
Al Cleland, Tati Weston-Webb, and Team Peru find Gold — but México still needs a stroke of luck.
Words by Christian Bowcutt
Today was the eighth and final day of competition at the 2023 ISA World Surfing Games in Surf City, El Salvador.
Skies were grey, water was grey, wind was whipping, cobblestones were rumbling, and 63 nations' flags waved wildly above the hundreds of surfers who competed at this year's Games.
The action today consisted of Men's and Women's Quarters, Semis, and Finals at large and jumbled La Bocana — it resembled something like a grumpy, bargain-brand, reversed Main Break at Margies.
At the end of the day, gold medals were draped on Al Cleland Jr., Tatiana Weston-Webb, and Peru, as the overall team leaders. Plus, three new surfers qualified for the Olympics.
TLDR:
Team Brazil's Tatiana Weston-Webb and Team México's Alan Cleland win Gold.
Peru wins overall team Gold — they had (two!) surfers in the Men's finals.
Kanoa Igarashi (Japan), Kauili Vaast (France), and Vahine Fierro (France) qualify for the 2024 Paris Olympic Games.
Team France now has an absolutely sinister team for Teahupo'o with two tube-whisperer Tahitians.
The U.S. placed 15th (behind Germany, Italy, and Canada) this year. They won this comp last year.
15-year-old Erin Brooks battles through 11 repechage heats to place 2nd and win a puppy.
Come-ups:
Peak Performance: Stab Innocents and Stab High star Alan Cleland, Tatiana Weston-Webb, Erin Brooks, and Lucca Mesinas.
Hit replay: Alan Cleland's 9.73 (highest score of the event) in the final.
One-liners: "My dad said if I make it to the finals I get to have a puppy." – Erin Brooks.
"Someone's knocking on the door and it's not the pizza man it's a solid chunk of the Pacific Ocean." – Chris Cote.
Al Cleland was a stand-out surfer the whole event. He seemed to seal his win early in the final with a quick 8.50 to start via two strong and risky backside hooks. He followed it up with a 9.73 for an eight-turn combo to the beach. It was a very high-scoring heat — everybody had over a 14.00 heat total — but from the outset, it seemed like Al was the guy and couldn't be put down.
Tati was in control of things this entire event. She breezed through her main rounds, never having to lose one of her "lives" — so to speak — and be relegated to a repechage round. However, during the final, she was losing to Canada's Erin Brooks until she grabbed a 7.50 in the dying minutes by air-dropping into a right and jamming a few powerful backhand hooks. It was the first time we saw any worry from her, but she still came out triumphant.
Overall top five teams:
1. Peru
2. France
3. Brazil
4. Japan
5. Australia
Team Peru looked dominant — former CT surfers Lucca Mesinas and Miguel Tudela placed 2nd and 3rd in the final on the Men's side and, on the Women's side Sol Aguirre made it to the quarterfinals. Miguel seems to be mounting a solid qualification effort, winning all five of the South America QS events during the 2022/2023 season.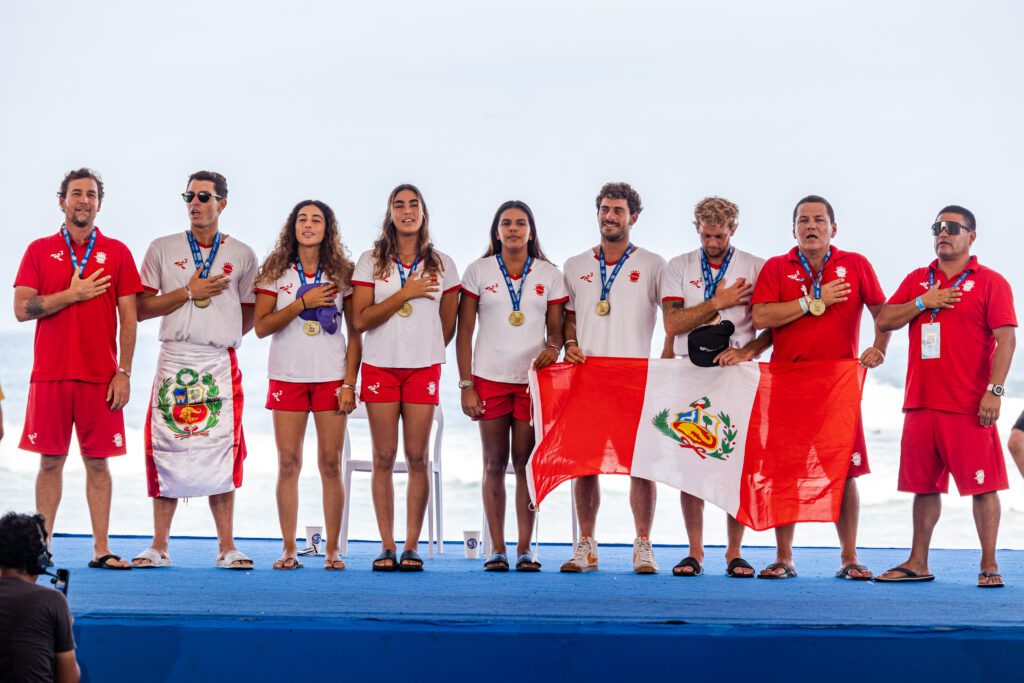 Who qualified for the Olympics at this event?
Here are the eight surfers that qualified for the 2024 Paris Olympics this week:
Billy Stairmand and Saffie Vette for New Zealand.
Shino Matsuda and Kanoa Igarashi for Japan.
Jordy Smith and Sarah Baum for South Africa.
Kauili Vaast and Vahine Fierro for France.
Surfers from the "Americas" will qualify for the Olympics in two different ways: ending the year in the top ten (for men) or the top eight (for women) on the CT or at 2023 Pan American Games in Chile later this year. The male and female winners of that event will qualify for the Olympics.
Also — and this is juicy — during Alan Cleland's post-heat interview, ISA President (and Reef founder) Fernando Aguerre told him that he could qualify for the 2024 Paris Olympics if Jordy Smith "double qualifies" via the CT. This would mark the first time that Mexico would surf in the Olympics.
For Jordy to "double qualify" he just needs to rank higher than either Kanoa Igarashi, Rio Waida, Leo Fioravanti, or Matthew McGillivray at the end of the year on the CT. He is currently sitting at #15 — ahead of both Rio and Kanoa. So, Alan is now Jordy's best friend and #1 fan. If Jordy can't pull this off, then Al could qualify for the Olympics by winning the 2023 Pan American Games or by qualifying through next year's 2024 ISA World Games.
Let-downs:
Caught behind: CT veteran Sally Fitzgibbons narrowly lost out to Vahine Fierro in two consecutive heats today. Vahine's wins over Sally propelled her to Olympic qualification for Team France.
Surf City, El Salvador is better than Huntington but definitely worse than J-Bay.
I'm yet to see a day of competition — whether in the CT or the ISA World Games — where the waves in El Sal merit the caliber of the "dream tour". It's certainly fun, contestable, and downright rippable — but in a perfect world (where the WSL is profitable) I'd rather watch G-Land, Macaroni's, or even Salt Creek's left point over another mushy, quasi-pointbreak righthander on the CT.
The U.S. and Brazil bowing out early was a definite let down.
The U.S.A. ended these games ranked 15th overall — last year they placed first. What changed? For one, most, if not all of their surfers will likely qualify through the CT. Also, at last year's ISA World Games, an extra third Olympics spot was up for grabs — Kanoa Igarashi won it for Japan's 2024 Olympic men's team and Kirra Pinkerton won it for the U.S.'s 2024 Olympic Women's team. The motive was clearly less comparable this year.
Brazil also had a number of surfers withdraw early from competition. However, Brazil also will have most, if not all of their surfers qualify via the CT. A source told us that they were actually planning on leaving early from the competition — though most of them stayed to see Tatiana Weston-Webb take the win. With Tati's victory they actually still managed to win a Bronze medal as a team.
In two days, we will see the CT arrive in El Salvador for the 2023 Surf City El Salvador Pro at Punta Roca.
Tendrás un Comp Preview pronto.