An Honest Review Of The Slater Designs Cymatic
Welcome to the Joyride, where we examine the relative merits of a novel surf craft. 
Stuart Kennedy blew my young mind back in 2016, when on a dwarfish epoxy sled he bested Kelly Slater, Gabriel Medina, and John Florence at the Quik Pro Snapper.
Stu's surfing was fast, loose, and incredibly in control, making commentators and surf fans wonder what was the Aussie tradesman's secret.
How was Stu so blatantly destroying the world's most highly paid and respected surfers?
While Kennedy's personal ability is not to be neglected, it became apparent that the Aussie's surfboard was playing a crucial role in his success. That short, epoxy shape with channels and a dramatic bat-tail looked rather queer on land, but under Stu's feet it was pure fire.
Lips were smashed, walls were halved, and flat sections were covered without hitch or bog. Stu was going twice as fast as his competitors and turning in half the space.
Could it be that a surfboard was making that much of a difference?
The collective belief was yes.
That surfboard was the Slater Designs Sci-Fi, and like the thousands of other fans who witnessed Stu at Snapper, I wanted it.
Very. Very. Badly.
Never got the damn thing though. Nor any Slater Designs board for that matter.
Too much money, I told myself at the time (your author was still in college and had "bro-deals" with other surfboard manufacturers).
Plus, a surfboard can't actually make you surf better, I rationalized.
Despite the initial pang of desire felt from watching someone on an especially lithe-looking craft, my rational mind would always convince me that it was the Indian and not the arrow making that particular board go.
And while there remains some truth to that historically inaccurate metaphor, partaking in these Joyride board tests has forced me to reconsider my stance on the value that a surfboard can bring to one's own experience and, dare I say, their ability in the water.
Because when I finally got my hands on a Slater Designs craft, my perception changed for good.
My first wave on the Cymatic was nothing short of lovely.
In small but uncommonly clean Ocean Beach peaks, I took off right and did an instinctive wiggle on the drop – getting my booties in the wax, if you will.
From the bottom of the wave I pushed hard on the toe edge, allowing my rail to cut through the morning glass and redirect me toward the lip. The board went there faster than expected, so rather pushing off a cascading section I was forced to redirect back to the power source, resulting in a smooth down-carve into the bowl. From there the wave stood up before me, allowing two cracks through lip before one final cutty on the end.
In that moment I knew I'd found something special — a board with all the obvious benefits of epoxy (speed, flex, whip) combined with the best parts of a PU (drive, control).
I couldn't believe I'd waited so long to try a Slater Designs craft.
Let's talk about construction.
Between the board's designer Daniel Thomson, its foremost rider Kelly Slater, and its producer Firewire, it was determined that Firewire's Linear Flex Technology (LFT) would be best suited to the Cymatic's function and design.
For those who don't know, LFT incorporates Firewire's Springer HD, which is a 0.75" wide aerospace composite strip that runs down the centerline of the board, replacing a traditional wooden stringer. This is then covered with a fiberglass and a white deckskin, and finally overlayed with a black carbon strip down the center.
The "Springer" is spongy in texture and according to Firewire, helps to optimize flex from nose to tail. The construction is also Eco Board verified, which always makes you feel a little better when throwing down cash for glass.
It's difficult to pinpoint the specific performance qualities of a board's construction without having tested another of the same shape by different materials, but I'd say the LFT helps to dampen the chatter felt in most non-PU boards while maintaining terrific performance values.
In the wide world of epoxy surfboard design, LFT is a clear winner.
As the sessions went on, I only grew fonder of my Cymatic. Riding a board three inches shorter than myself, and five inches shorter than my "standard shortboard", I was amazed by the positions I could achieve on this little chopped-beak blade.
My snaps fit tighter in the pocket, airs were whipped with ease, and my carves were more often wrapped all the way around, despite the small conditions. In other words, by using the trimmed-down nose, I was able to turn 180-degrees on the small, curved part of the wall, rather than going wide and bogging in the flats.
I particularly loved the Cymatic on backside carves – a maneuver that I, along with most surfers I would imagine, have failed to perform properly after multiple decades of wavesliding.
Something about the shrunken outline allowed me to engage the whole rail though my turns, rather than having the nose sticking up in the air and creating drag. I was able to cut through the meat of the wave and create speed as a I drove around the corner.
There were clearly no Dane, Andy, or Occy carves completed but on a personal level they felt great.
However this shortened craft does have its downsides.
I've noticed that I tend to bury the Cymatic's nose more than I would on a pointy-ended craft. Danny Thomson added some flip in the beak to help offset this issue, but it's impossible to fully avoid pearling when you lop three or four inches off the front.
While San Fran produced plenty of fun-sized surf, I was curious how the Cymatic would perform in real waves. You know, like slightly over my little midget head.
So I brought my Cymatic to Costa Rica and Hawaii, where some proper three-footers were sure to be about. What I discovered was that the board's positive qualities of speed, agility, and control persisted into overhead surf, though it starts to feel somewhat flimsy after a certain wave height and/or wind speed.
Early mornings in costa, when the surface is baby's-bottom smooth, the Cymatic drove through water and exploded out of lips with ease. In the afternoon bump, it struggled to grip the water and would occasionally skip out.
Surfing downwind in Hawaii, the Cymatic held a firm line and cut through the Pacific like a fresh tuna balde. However when surfing into the steady trades, this board lifted out of the water and lost speed as a result.
Those it's worth remembering what Jordy Smith did to Hawaii on his Cymatic this season.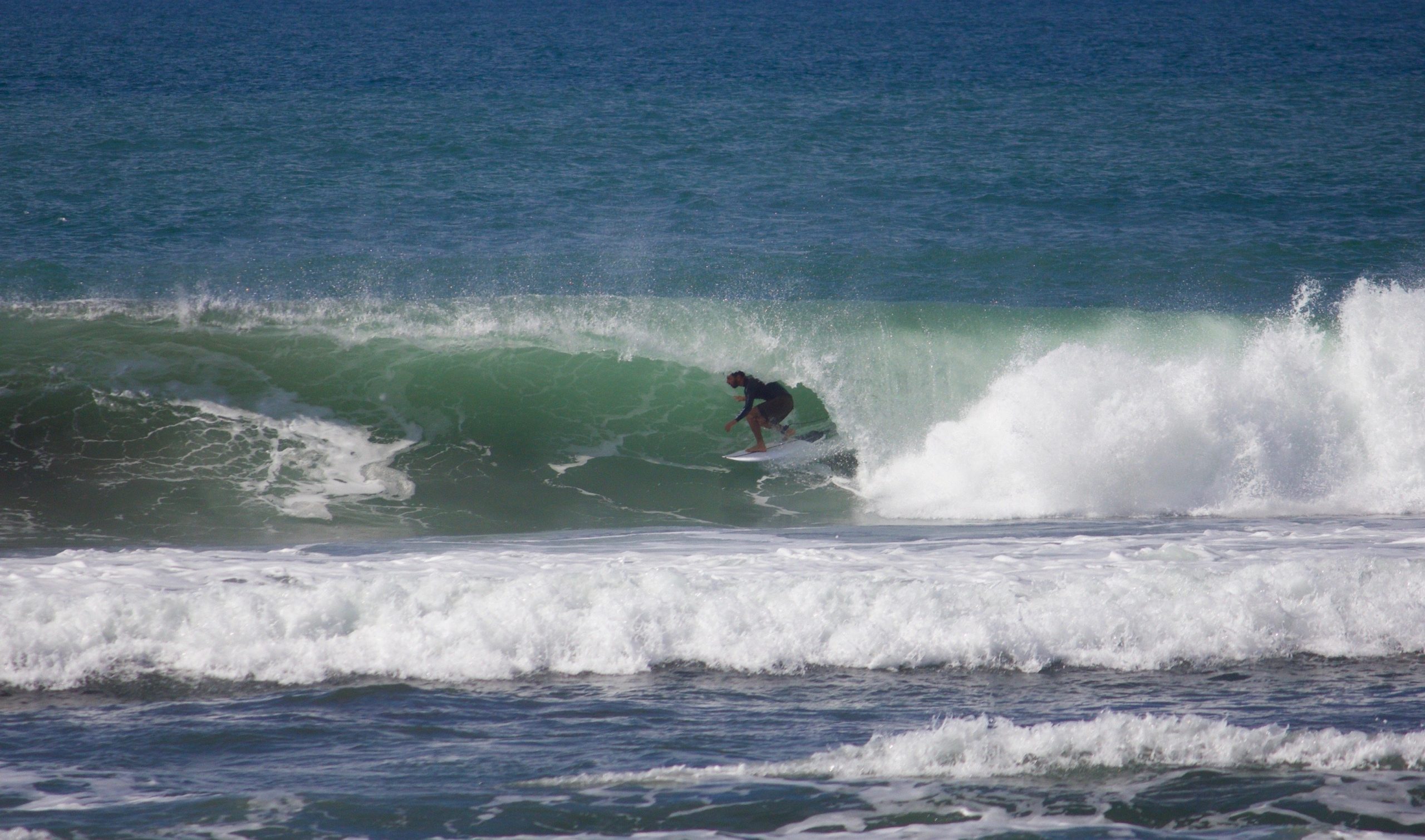 Let's talk about fins.
In the Cymatic we tested two different constructions of the same Futures template – the Medium JJF fin in Techflex, and the Medium JJF fin in Alpha. While the Techflex construction is meant to be a little stiffer and geared toward control, I actually found that it generated more speed and made my Cymatic slightly more whippy than the Alphas, despite the Techflexes being lower (read: stiffer) on Futures' Ride Number scale.
Alternatively the Alphas allowed for more stable surfing and were a bit on the slower side.
Perhaps this was rider-related, perhaps it was the waves, or perhaps it was an altogether inexplicable anomaly. Either way, the JJF's in Tech Flex definitely felt like the best fin for my Cymatic.
Needless to say there are always limits to these epoxy crafts, but by way of construction and design, the Cymatic seems to mitigate these issues to a remarkable extent.
Overall this is an incredible surfboard for small-to-mid-sized conditions. If you want to rip to the best of your personal capacity, I'd look no further than the Slater Designs Cymatic. Below is a categorized breakdown of its most notable qualities.
Electricity
This board is downright sparky underfoot! After watching my first wave on the Cymatic, I realized that I had gained this strange little shimmy throughout the ride, almost similar to what Slater's had going on since switching from PU to epoxy crafts. I don't know how to explain it other than this board doesn't want to sit still – it wants to go go go, and who are we to stop it? The Cymatic is incredibly fast, whippy, and tender to the touch while maintaining control, which is why it maxed out the electricity meter for me.
Pedestrian Scale
For how weird it looks, the Cymatic feels surprisingly natural once in the wat. I was honestly baffled by this fact, considering how aggressive the tail and nose shapes look to the eye. That said, I can imagine this board posing some trouble for anyone less than an intermediate surfer, as you do need to time your wiggles right to get it moving. One good pump and it's gone, but if you're off-beat the Cymatic will let you know.
Preferred Size
Chest-to-head high conditions are preferred, but you can easily fudge this scale in either direction. Frankly I was shocked by how well the Cymatic held in punchy, overhead conditions, given both its size and epoxy construction. Equally impressive was its ability to generate speed and pop in diminutive surf. Though the Cymatic does have its limits, specifically in the double-overhead range or in anything with severe lump and bump.
Railwork
This board is downright freakish in its ability to penetrate water. Something about the rail or the tail or other Thomo-spawned secret has given this craft the ability carve like a blade — despite, or perhaps thanks to, its emasculated length. I kid you not… in its preferred wave range, the Cymatic will slice and dice on par with your standard shorty. It's fucking remarkable.
Airworthy
San Fran's all day offshores made it difficult for this amateur punter to soar above the lip, but rest assured that in the more tranquil conditions of south Central America, the Cymatic proved more than capable of throwing its (minimal) weight around. This board produces ample pop off the lip and despite its hard edges, the tail is all too easy to get spinning.
If any of this has piqued your interest, feel free to check out and order your own Cymatic here.
I highly recommend it.