Sharing Tubes And Hummus In The Middle East's Surfing Jewel: Israel
No Contest does Tel Aviv!
Beach culture is universal, and Israel is no exception.
For the sixth and final installment of Stab and Red Bull's No Contest Off Tour, we're headed to Israel, and the rich surf scene around Tel Aviv.
Surfing in Israel goes back to the 1950s, and while it takes a second to get used to checking the waves next to gun-toting teenagers and gabardine-clad old men, the beach scene today would be surprisingly familiar to a surfer from, say, Southern California: there are esteemed local shapers, shop owners-turned-folk-surf historians, tattoo-studios that doubled as surf shops and galleries, mysto tube hunters, international event organizers, and more. Israel's got it all.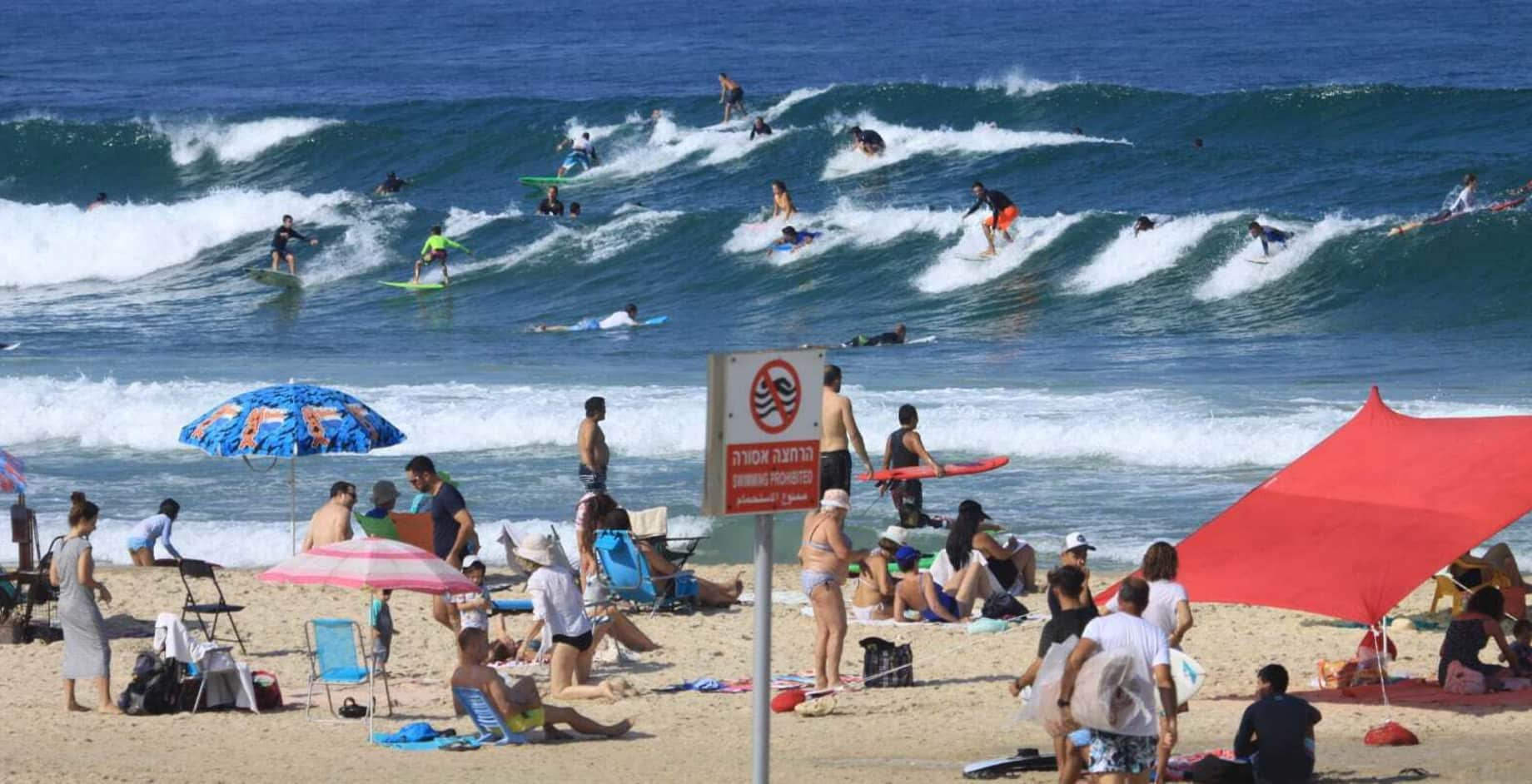 As international surf culture began to catch fire in the 1950s, Dorian Doc Paskowitz brought surfing to Israel, when he arrived for military service in 1956.
Over the next 60 years, as the patriarch of one of surfing's most famous families, Doc would introduce thousands of surfers to the culture through the Paskowitz Family surf schools, earning himself personal apostles like the Mediterranean Surf Alliance's Arthur Rashkovan, owner of Klinika Surf, who met Doc as a teenager here in Tel Aviv.
Klinika is as much a core surf shop as it is a gallery and museum, with a great selection from international shapers and hard goods brands like JS, Album, or Astrodek, as well as local artisan brands like Prima Fins.
The No Contest crew, accompanied by Leon Glatzer and Juliette Lacome, get a proper post-surf feed at Abu Hassan, an iconic humus joint in the Old City of Jaffa, and are joined by Anat and Noa Lelior, two badass up-and-coming ladies who grew up as groms in the beach breaks around Tel Aviv.
They'll take us to meet Or Kantor, one of Israel's most exciting and acclaimed young artists and tattoers, whose Love Light Studios is a vibrant, radical space filled with Or's instantly recognizable work — murals, prints, psychedelic Middle Eastern paintings, collaboratively designed boards from local board builders like Hani Ovadia, and a portfolio of some of the most beautiful traditional Middle Eastern tattoos you'll ever see.
Ashton and Leon also get to see the mythical Doctor Yoni Klien — third-generation Tel Aviv surfer, second-generation doctor, and arguably the most barreled physician in the world.
Below, Chris Binns chats with No Conny star and German/Costa Rican goofyfoot, Leon Glatzer, about his experience with the surf scene in Israel competing in the Netanya Pro the last few years, and his trips getting deeper into the culture and crew there with the No Contest team.
Chris: Let's talk about Israel. How was that trip?
Leon: It was fun! It was my third time there, but the first with any purpose beyond just competing. Ashton called to see if I wanted to shoot and I didn't need to be asked twice. It was great to spend a little more time and explore, as that's something my tight schedule normally never allows. It was super-nice to visit Jerusalem and a few other parts of Israel away from the beach. We met some shapers and artists and it was cool to hear their story and make a connection.
What's the scene like?
It's like any other surfing community. At the end of the day surfing is surfing, it's the glue that binds us all. Some things are different, so many are the same, no matter where we're from, our race, our religion. The locals were really hospitable, they welcomed us with open arms and really took good care of us. It was unreal.
Most surfers would hear 'Israel' and just think of wind-waves – did you get good swells?
Yeah, we got good wind-waves! There's a lot of wind, but that's fine. There's so much up-and-coming talent in the water, everyone really pushes each other and the level is getting better and better, especially with the Olympics now on everyone's horizon. Anat Lelior qualified for the Tokyo Games – she's a tough competitor, but with a really big heart. She was super-stoked to make it to the Games, but had a really bad hip injury and couldn't surf to her best, but I think that's probably just fired her up more to try and make Paris. It was really cool to reconnect on her home soil and share stories and shared experiences. Everyone has their own high points and hurdles, so it was fun to compare notes.
How was your whole No Contest experience? You couldn't get two more contrasting episodes than hosting everyone in your hometown and then going to Israel…
I had no idea of what the finished product would look like and the first clip I saw I wasn't too sure about, but once I accepted that No Contest is a different way of talking about surfing, I really got into it. I love how detailed all the explanations are around where each episode is being shot and that the team really try to showcase everything that's there and follow you around town and show your experience. It's not just another action clip, that's for sure.