10 of the world's Sharkiest spots (that you can't help but surf)
It's probably not a dolphin.
Words by Morgan Williamson
With coast comes crashing ocean, jagged cliffs, roads, surfers, seals and… sharks. With sharks come misunderstanding, innate fear, black eyes and a bite to be avoided. For us, it's an out of sight, out of mind thing, thoughts of sharks don't enter our cerebrum when the surf's pumping and we're on the conveyor belt, paddling like madmen, tongues slacked out the sides of our cheeks like labradors. It's funny, sharks by some are seen as an irrational fear: "You've got a better chance of getting struck by lightning than being attacked by a shark," we've heard and said. That is unless you were on the coast of Los Angeles last summer where a white shark was reeled into a group of long distance swimmers by a fisherman off the Manhattan Pier resulting in a hefty chomp early July. By later July a few miles down the road, on the coast of Marina Del Rey, lightning struck the beach leaving one dead and 13 injured… Hell, you can't write reality. Surfing implements a junky mentality, and our types get hooked on the stoke and no 12-step program can get you off the stuff. The sharks can't keep us out (with the exception of Brazil's Recife where people straight-up don't go in the water and bull sharks swarm empty lineups like an agitated hornet's nest. So, with an ominous crescendo of clashing white piano keys in mind, here's 10 of the world's sharkiest waves that when on, all us pathetic addicts couldn't help but paddle out…
1. St. Leu, Reunion Island
St. Leu fires, a world class left that the Rip Curl Search Event used to call home. Reunion Island was also home to chilling news earlier this month when a 12-foot tiger shark took the life of 13-year-old Eli Canestri. Jeremy Flores paid homage via Instagram: "ANOTHER shark attack in Reunion Island this morning. 13 years old Eli was one of our best up and coming surfers. Words can't describe how sad and angry I am. So young! Heartbreaking news. RIP." Reunion Island has tallied 16 attacks since 2011 with eight fatalities, and simply put, those numbers are staggering. In 2013 the French gov. placed a ban on surfing and swimming in these shark ridden waters and are currently running tests broadly tied into the Reunion Island Shark Risk Reduction Program, which has implemented nets, drum lines and shark spotters with hopes of lifting the ban by 2016.
2. Umdumbi, Transkei, South Africa
South Africa's wild coast is home to some world class waves. Some of the breaks are netted against sharks, and some aren't (as is Umdumbi's case). The waves pump in the area, John John Florence spent some time there while filming for his movie. The Transkei coast is no stranger to shark attacks with eight fatal attacks within the last six years. South Africa's sharky, but you already knew that.
3. Skeleton Bay, Namibia
We've seen what Skeleton Bay does, we remember that wave Corey Lopez rode over a decade ago (and Koa Smith's more recently), those reeling pale green lefthand zoomers that cull all nonsense and set the brain to froth overload. Those GoPro fantasy shacks, going and going like the Energizer Bunny. Africa's desolate coast of Namibia is cold, great white infested but those barrels are oh, so inviting; inviting enough to forget the sharks, take the beatings, fight the current and try to pump that little rubber body of yours out the other side. There's been no recorded attacks there yet, but ask anyone who's surfer there and they'll tell you: The vibe is there.
4. Lefties, West OZ
One recorded shark attack at lefties in 2005 and another at neighbouring break Umbies in 2013. Lefties is one of the more reliable breaks on the Margaret River-Yallingup stretch of beach. West Oz is no foreigner to shark attacks, with a slew of attacks in the Margaret River area over the past ten years with 11 proving fatal. It's no secret that West Oz has more than a few rows of jagged teeth swimming below.
5. J-Bay, South Africa
We know South Africa has grey suits, a lot of them. It's a hub for research on the animals for just that reason. It's also home to one of the most famous and timeless right point breaks. It's all been said about Jeffrey's Bay so I don't need to waste your time. I don't need to tell you it fires, world class, there's whites and the last attack at J-Bay was fatal in 2013, I've said too much.
6. Honolua Bay, Maui
The best wave Maui has to offer when it's on, maybe even the world when it's has that right swell. An endless right point that you surf with an endless amount of your closest friends that's prone to beach closures due to shark sightings. The surrounding beaches see yearly attacks by tiger sharks, although the last attack at Honolua Bay was in 2003. Sun plus trunks plus carve-horny open faces outweigh any potential for unwanted chompers.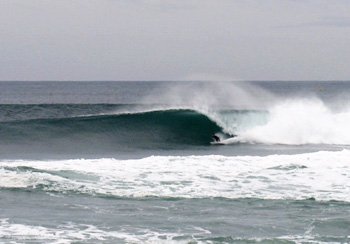 7. Moss Landing, Monterey Bay
Moss Landing is the central coast's Blacks, it gets big, perfect and resides at the southern tip of the Red Triangle, a beautiful hazy stretch of the Central/Northern California coast where the grey suits add an aura of fear to the cold wind, water and swell that can go from four feet to double overhead plus throughout the course of a day. Monterey Bay completes the triangle whose colloquial name is a direct reflection of the large population of elephant seals, harbor seals, sea otters and sea lions, and of course, great whites who serve as grateful patrons to the marine mammal buffet. In lay-man's terms; it's sharky.
8. Ponta Do Ouro, Mozambique
Another African righthand point. Ponta Do Ouro on the right conditions rivals that of Jeffrey's bay, and like Hall and Oates' greatest hits albums and J-bay you'll find man eaters. Whites and tiger sharks have been known to take a bite out of Mozambique tourists, but hell, peeling right point breaks > the off chance of getting bitten.
9. Sebastian Inlet, Florida (above, not really Sebastian, but a good idea of the sharks in Florida)
Florida is the shark attack capital of the world. Eight different species of sharks call the Floridian waters home. Sebastian harboured such legends as Lopez and the Hobgood brothers and that Kelly Slater guy. Earlier this month a bobcat was photographed fishing a five foot shark out of Sebastian Inlet's waters, which was cool. In 2013 there were two consecutive attacks within 48 hours at the inlet. The break's been called the capital of east coast surfing, it showcases Floridian talent and despite the frequent sightings and yearly attacks, the crowds continue to flock to the spot like, dare I say… the salmon of Capistrano.
10. Ocean Beach, San Francisco
Ocean Beach handles its swell the way high functioning alcoholics handle their morning libations. Fall heading into winter, the break houses picture-perfect double to triple overhead A-Frame howlers that'll put you in your place on the outskirts of the city of love. It's not uncommon to stroll by an unsightly nudist or two (they're never sightly) on your way back to your car, bus or Muni Line while you try and regain use of your fingers and wonder how the fuck they're not freezing? San Francisco is smackbang in the Red Triangle. Twenty-eight miles offshore are the Farallon Islands, the triangle's apex, where you can rent a dive suit, jump in an iron cage and pay a pretty penny to see some great white sharks do great white shark things.