The 3 Sets of Fins Every Surfer Needs
Whether you ride Futures or FCS, we've got you covered.
Fins these days, they ain't cheap. But if you want your stick to perform at maximum capacity, you've got no option but to splurge on the real thing. Those plastic whiteys you get with a new board are nothing more than anchors on your craft, so we're here to talk about carbon, honeycomb and fiberglass rudders.
Ideally one set of fins would perform great in all conditions, but the simple fact is that — and I should add this is also true of surfboards — there is no such thing as a perfect all-arounder fin. In order to increase a fin's speed (through flex/construction), you've gotta decrease its hold. In order to increase a fin's drive (through size/rake), you need to decrease its maneuverability. Ipso facto, any alteration that helps you gain in one aspect of fin persformance forces you lose in another. Hence why we have different sets of fins for different conditions.
But then the question becomes: Which fins do I absolutely need in my arsenal? Considering the average set costs a hair over $100, it's not like we can go around buying fins willy nilly. That's why Stab set out to find the best 3-fin quiver that money can buy. Naturally we enlisted the help of Futures and FCS — the fin world's undisputed duopoly — to help understand what three pieces of cutlery a surfer needs to tackle any and all conditions… in the 2-to-10-foot range.
FCS
From Richie Lovett — ex-pro surfer and current FCS Brand Ambasssador
While it'd be great to have a full quiver of shooters lined up in the garage, ranging from the small-wave groveler to a big-wave rhino chaser, for most surfers a single board quiver is the reality. So, if you're one of those surfers who's forced to make your board work regardless of the conditions, remember it's possible to adapt the feel and performance of your board for different waves simply by having a selection of fins. It's also much cheaper than buying a garage full of surfboards.
Before we get into it, here's a quick overview of how the FCS fin range works. The range is divide into 4 fin families; the Reactor, Performer, Accelerator and Carver, also known as the Essential Series.
Each family is categorised by the sweep (rake) of the fin, which ultimately determines how the fins within that family perform. Put simply, an upright fin with less sweep will turn quicker and in a tighter radius, fins with more sweep turn in a longer arc and hold (offer more control) through a turn. This last fact should be used as the foundation when choosing a fin.
Armed with this knowledge, you could choose three of the 4 fin templates below that'll render you ready to surf almost any wave, anywhere in the world with just one board.
Small Wave: FCS II Reactor – $110 USD
Lovett: "The Reactor is a very upright fin, meaning it has a low sweep angle and therefore will make tighter, more acute directional changes. Not only that, having a more 'upright fin' reduces drag so the Reactor is considered one of the faster fins on the market. Think hollow waves and beach breaks where quick turns are on the menu. Basically, this fin lets you get vertical with minimal effort and will shorten the time between turns. The Reactor also has a smaller centre fin, which makes it easier to release the tail and kick the fins out of the lip, and for that reason it's perfect for surfers who like to perform progressive turns. Lastly, a more upright fin like the Reactor is recommended for boards with moderate-to-low rocker."
Medium Wave: FCS II Performer – $110 USD
Lovett: "FCS has two options when it comes to 'All-Round' fins, but if you had to choose one, it'd be the Performer. This fin has a well-balanced outline with a neutral sweep angle, and therefore offers a balance of speed, flow and response. It's no wonder the Performer is the most widely used fin in the world, because it can be paired with just about any board, and can be used across a wide range of conditions from beach breaks to point breaks."
Bigger Wave: FCS II Carver – $110 USD
Lovett: "We're getting onto serious shred territory with the Carver. With its elongated template and high degree of sweep, this fin provides exceptional hold off the bottom and is designed for powerful, drawn-out turns and carving on the open face. If reef breaks and point waves are your poison, then this fin is the money. The Carver is also better suited to boards with deep concaves and moderate-to-extreme rocker, and for that reason it's a favourite with the pros and power surfers. In fact, the MF (Mick Fanning) and JW (Julian Wilson) templates reside within the Carver family. The Carver is also good if you want to ride a smaller board in bigger waves, because it essentially 'hangs on' better and provides more control and stability in juicier conditions."
Futures
From Brian Robbins — Futures Surf Team Manager
As you can imagine, we're always having conversations about what fins people should be riding, and it's essentially the root concept behind our Ride Number experience. We're often asked, "How do I get my favorite shortboard to perform in a variety of conditions?" "What feelings do you get from different fins?" And, "When should I use those fins to get the right feeling at the right time?"
Knowing things ultimately get really personal with regards to boards and waves and styles, we've focused intentionally on the averages. We want to get people in the right area and understand the thinking behind selection, and then allow for personal preferences to make the final decisions on "beloved" set-ups. Demo-ing fins is ideal and highly recommended.
We're considering a big wave to be in the double overhead (10- 12' faces) range. For most that is big, of course for many that is not.
The final piece of the puzzle is the surfer's size, or more appropriately weight. That's really the initial question, what size? Our 3 fin Quiver is designed around the 180-190 pound surfer, of intermediate ability…
Small Wave: Craig Anderson Blackstix: $110 USD
Robbins: "The speed generating characteristics of the Blackstix line are critical in small wave success. Primarily fueled by the V2 (concave) inside foil, the net result is that your board feels much looser and more lively, when you're not getting much help from the waves. The specific carbon lay-up gives additional spring from the torque of the fin, as it responds to the load of any turn."
Medium Wave: John John Techflex: $115 USD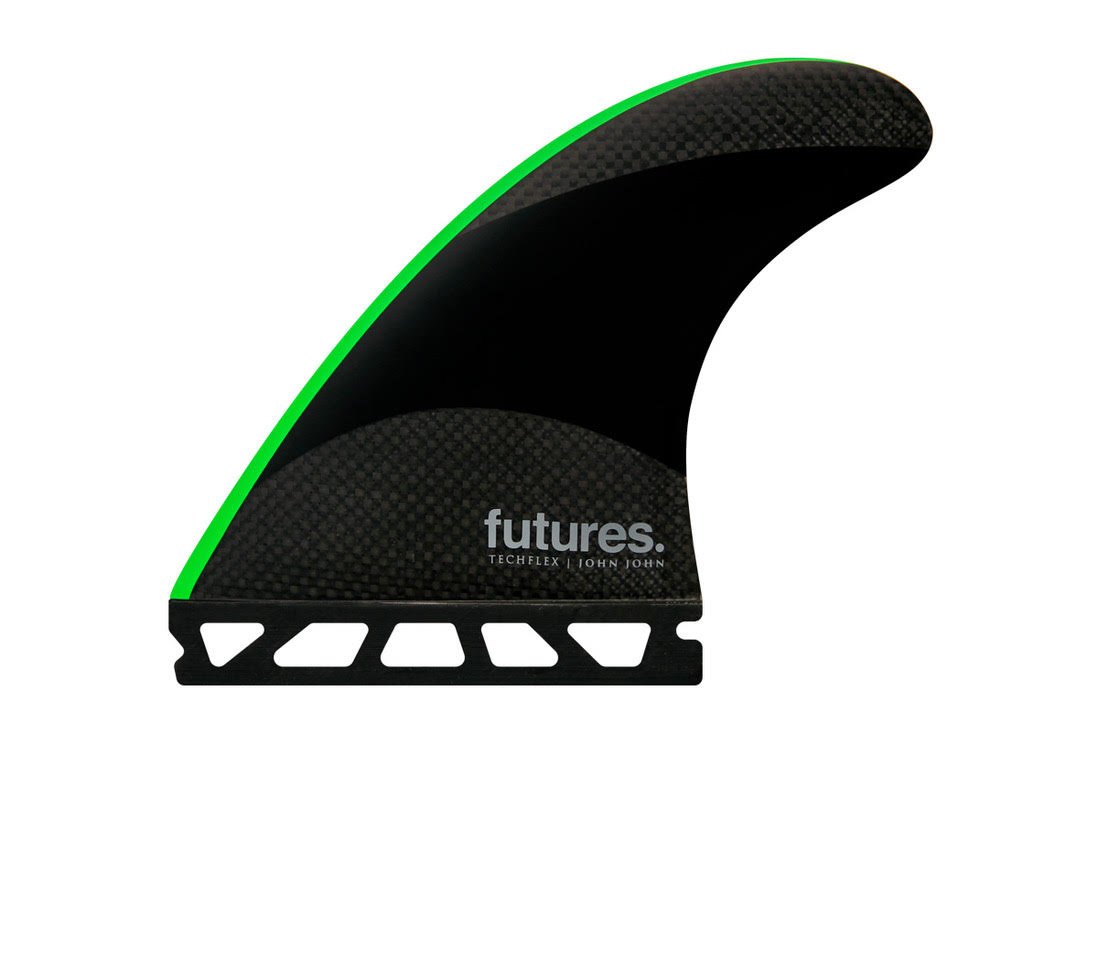 Robbins: "The John John Techflex is your everyday set of fins, and our best attempt at an "all-arounder". The carbon base and tip give the fin a nice spark when the surf is average. The flat foil allows for stability through turns when the surf is on the rise. Also, the template is somewhat upright, allowing for quick response and maneuverability. Overall, this fin allows your board characteristics to prevail, but provides the right amount of influence as conditions change."
Bigger Wave: Jack Freestone Control: $110 USD
Robbins: "The speed control characteristics of the Control Series line are fundamental when the waves are overhead and with a bit of push. The fin is made from a solid panel of fiberglass that includes a single layer of carbon. The materials are consistent throughout, providing a more predictable flex and response from turns. The template is pretty neutral, but the size is the biggest of the quiver, allowing for a bit more stability. It also has a full-size (same as the side fins) center fin, to provide further control at top speed."
So there you have it. Whether you're running FCS or Futures on your sled, these three (errr, six) sets of fins will allow you to surf any mortal-sized ocean lump. And though it's not easy to fork over $330 on a few sets of fish-cutters, we recommend you think of this as a long-term investment. So long as you don't do anything stupid with them, surf fins can very well last a lifetime.