More is more when it comes to one of the most tech-forward booties on the market.
Stab Recommends: Solite's Custom-Fitting Surf Booties
Like gloves, for your feet.
elsewhere
// Nov 27, 2022
Words by Corina Stephens
As we learned during this year's Best Wetsuits test (coming soon!), surf boots can be good, bad, and really freaking clumsy.
But rarely, if ever, do they feel like they're made for your feet, specifically.
Enter the 3mm Custom Pro 2.0 booties from Solite: a custom-fitting surf shoe that's designed to match every corner and crevice of your fiberglass fingers — no matter how chunky, petite or misshapen they may be.
How did we arrive at custom-fitting surf boots?
Give the exterior of these Solite boots a glance — with their hydrophobic footbed, super-grippy sole, and sleek but sturdy three-point strap — and you'll agree that, although dubbed an 'accessory' of the aquatic ensemble, these booties are anything but an afterthought.
That's thanks to their creators, industry veterans Tyler Callaway and Jamie Meiselman. Both lifelong coldwater surfers, Callaway and Meiselman spent their formative surfing years in the Northeastern US, where thick wetsuits, boots, and gloves are crucial to surfing throughout a majority of the year.
The concept of custom-fitted surf booties has been floated before, but this is the only one with a true foothold in the industry (sorry, had to). After decades of innovating and pushing the standards of hard goods in their respective fields (Callaway at FCS and Meiselman in the snow world at Burton), the two focused their skills and experience on watersport footwear — and surfing is better for it.
How To Custom-Fit Your Solite Booties
The heat-moldable footbed – you guessed it – forms perfectly to the user's foot via a simple three-step process. Here's how the magic happens:
Step 1: Fill each bootie with boiling water. This allows the interior material to soften.
Step 2: Flush with cool water to prevent scalding. *Stab is not responsible for any boot-related burns — including in the comments section*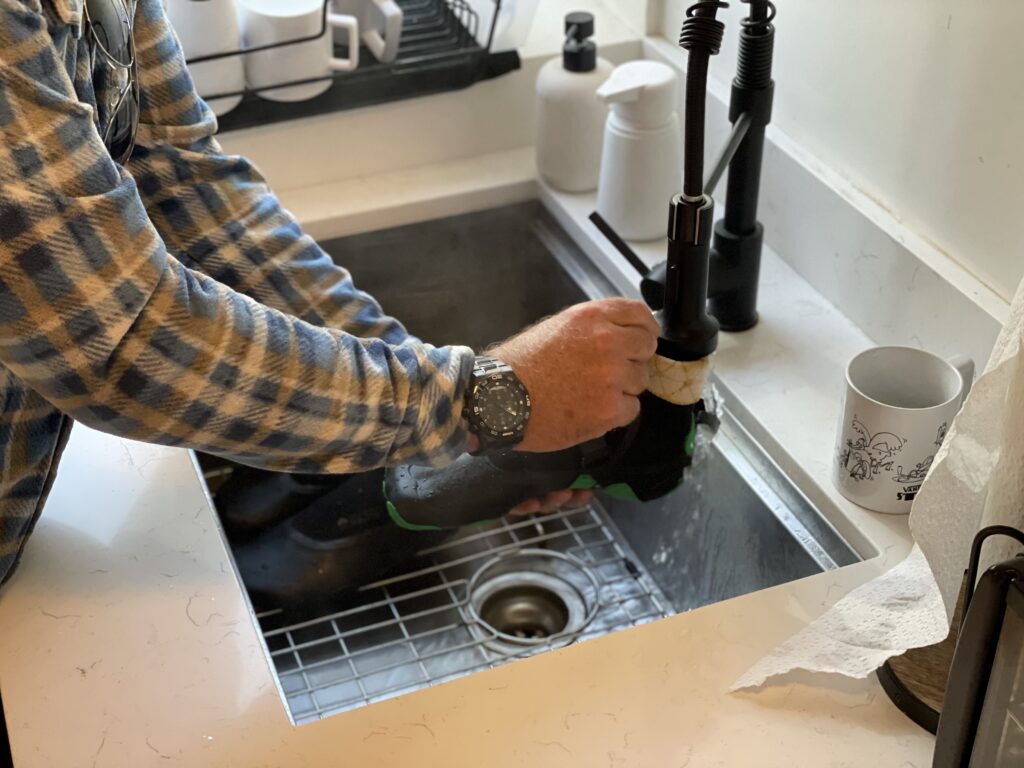 Step 3: Let the magic happen. AKA stand there with your foot in the warm boot for ~10 minutes.
While this is a fairly simple process, we recognize how stressful it would be to botch your first custom surf boots. But don't stress — even if you fumble the initial fitting, each Solite Custom bootie can be molded and re-molded as often as necessary to fit the wearer like a glove (they make those, too).
Complete customization instructions can be found here.
And if somehow the custom-fitting didn't make your boots suction-cup snug, Solite's also have a three-point strap that offers additional stability and a precise fit in both the heel and the arch. They really did think of everything.
Here's what our boot-tester Kuio had to say:
As my first pair of custom-fitted booties, these didn't disappoint. Unlike the typical surf boot that isn't specifically designed for the wearer, these fit the unique shape of my foot, making them feel protected from cold water and excessive movement alike.
With the custom fit, seam welds, and three-point strap locking my foot in, water was completely locked out. After purposely letting cold water into my boots, I put them back on and strapped them up. The snug fit allowed for very little water to remain but, to my surprise, the booties actually felt like they had even more grip with a little bit of water in them.
Wearing these felt similar to not wearing booties at all; my foot's shape/structure felt supported, and geez was that "sticky sole" sticky! Lastly, with how grippy and tight-fitting these boots are, they were surprisingly easy to put on and take off. Overall, I was pleased by the performance of these boots. The only change I would make is that the 3mm Custom 2.0 came in a murdered-out black!
Find Solite booties at your local retailer or at Soliteboots.com.